Shipping and handling are included in the price shown.
All domestic orders ship U.S Postal Service unless otherwise specified.
Canadian and overseas orders require $4 extra shipping.
Gathers No Moss - Megan Lynch Chowning
Released late in the summer of 2018, this entirely solo fiddle album (Volume 2 of the "Raw Fiddle Album" series) includes a wide variety of tunes from the Texas style, Irish, old time, Western swing, and bluegrass traditions.For more information about the album (tunings, composers, inspirations and explanations) CLICK HERE.
Inside Out - Megan Lynch Chowning and Adam Hurt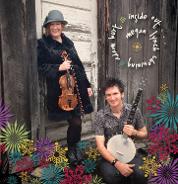 Early in 2015, Adam Hurt and Megan Lynch Chowning had an opportunity to play a couple tunes together at a camp where they were both instructors. Adam called a tune he had been interested in for a while, Tugboat, knowing that Megan was a National Champion "Texas style" fiddler and would be likely to play it, or at least be familiar with it. He had no idea it was one of her favorites and that she would be so excited to have that tune suggested by such an unlikely person, a champion clawhammer banjo player steeped in Appalachian styles. Megan's husband Adam and their friend Tyler Andal happened to be nearby and as they are both accomplished rhythm players in the Texas style, they were happy to jump in and add to the jam. It was a fantastic and exciting result. Both Adam Hurt and Megan realized in the that moment that they were likely creating a mashup of styles that needed more exploring. This album is the result of that exploration. For more information about tunings and sources, click here...
Face to Face - Adam Chowning and Megan Lynch Chowning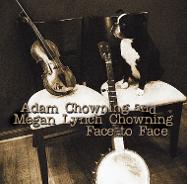 My husband Adam and I have made an album of classic old time fiddle and banjo tunes. We are so excited to share this with all of you. Engineered by the incredible Brandon Bostic and recorded right here in Ridgetop, TN, we are so proud of the sounds, the tunes, and the fact that Winston can only be heard snoring in the background once or twice. These are the tunes we sit around and play together and this is the music we have come to love.
All Year Long (and songs for the season) -Megan Lynch Chowning and Mary Sue Englund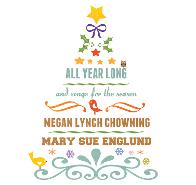 We are proud to share with you a holiday album that features six new and classic songs, all played and sung acoustically. We're especially excited about the brand new Mary Sue Englund original , All Year Long. Click below to listen to this beautiful holiday song. We hope you enjoy the spirit of the season, All Year Long...
Track List...
1. This Year
2. Old Toy Trains
3. Looking Through the Glass
4. Christmas Time's a Comin'
5. All Year Long
6. Have Yourself a Merry Little Christmas
Mary Sue and I are also proud to offer a beautiful holiday card for sale, printed on white, pearlescent card stock. On the front, a tree filled with our hope for the feelings of the season. Inside you will find the lyrics to the chorus of our original single, "All Year Long" as well as a CD of the album version of the song. This is a fabulous card and gift for all your friends and loved ones. We can ship individual cards or bundles of five.
Something Old, New, Borrowed, Blue - Megan Lynch Chowning
Behold, Megan Lynch Chowning's brand new album featuring 14 old and new fiddle tunes (four of which are medleys so really, it's more like 18 tunes…) played in a way you've rarely heard in the last few decades - completely solo! Click here or on the album cover to find out more and to order. $17
Lovely Weather We're Having



From Megan B. Lynch, a collection of beautiful waltzes, classic old-time fiddle tunes, and new interpretations of fiddle and mandolin duets. $17
The Comprehensive Fiddler



This CD is an hour of bluegrass fiddle instruction covering every aspect of the style and how to play it. $17
Kickoffs and Endings



Get all the great licks that will make you sound like an authentic
bluegrass fiddler. Includes two play-along CDs. $22