Hand Over the Chords
How to Read Chords from a Guitar Player's Hand - by Topher Gayle and Louisa Knabe
Especially for non-guitar players!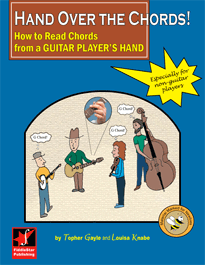 You're at a jam. You don't know the tune. How can you pick up the chords on the fly? "Read" the guitar player's hand! Finally! A book that explains how you can learn the chords to a tune by watching a guitar player's hand.

This book includes:
A method for learning to "read" a guitar player's hand
How to "read" the 7 most common chords
Flash cards for practicing
Annotated photos of chord shapes
How to read capo chords and bar chords
Alternate shapes for common chords
And more!
"This is a wonderful guide which will help move you so far forward in your jamming skills you'll wonder what you ever did without it. I'll be using "Hand Over the Chords" with all my students and at my camps. This is the book I've been waiting for!" -Megan Lynch Chowning