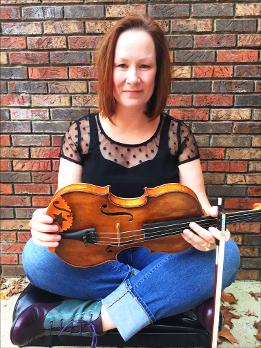 FiddleStar Lessons FAQs
Please click on this link and read my full studio/lesson policy - revised June, 2014.
Tell Me More About Online Lessons...
Online lessons aren't the wave of the future, they're the wave of right now. These days, 75% of my students are learning through Skype from their living rooms, their grandparents' houses, or during a layover at the airport. Skype is free to download to your computer and the only other thing you need is a camera which usually comes already loaded in your computer. If not, one can be purchased for less than $40 and plugged right in. I have been teaching this way for over five years and have all the systems in place to make sure you never know the difference between Skype lessons and the old-fashioned kind. Except of course, the overwhelming convenience and ease of learning online... Give it a try! And in case you're wondering, I love teaching kids, adults, beginners, professionals, and everyone in between. We can work on old-time, bluegrass, Texas/contest style, swing, Celtic - you name it! Just below the information about Skype-style private lessons check out some other really convenient distance learning options. What would you like to learn?
Weekly Lessons
Are you a regular weekly student? Are you interested in being one? Fantastic. However, please get in touch with me before purchasing lessons to make sure I have any availability. Please pay your monthly fee before the first lesson of each month. You may opt out of one week of lessons in a month and still keep your spot as well as the monthly lesson discount. Just choose the three week payment option and let me know which week you won't be attending your lesson. If you have not already been taking weekly lessons and would like to get on the schedule, please purchase the monthly lessons (30, 45, or 60 minutes) you would like to have and email me for available time slots. Weekly lessons cost $35 per lesson for 30 minutes, $50 per lesson for 45 minutes, and $70 per lesson for 60 minutes.
Do you take 30 minute lessons each week? This payment button is for you.
Do you take 45 minute lessons each week? This payment button is for you.
Do you take 60 minute lessons each week? Just below lies your payment button.
Individual Lessons
Are you interested in purchasing individual lessons? Just below are the three time options for purchasing one lesson at a time. Make your decision then order the lesson you want. I'll get right back to you to schedule your lesson and we'll get to work. This is also your section if you'd like a sorta regular lesson but can't commit to the weekly schedule.
30 Minute Online Lesson $40
A 30 minute lesson is a great way to find out just how easy and efficient online learning can be.
45 Minute Online Lesson $60
30 minutes too short? 60 minutes too long? A 45 minute lesson is the Goldilocks of lessons - juuuust right!
60 Minute Online Lesson $80
You can learn a lot in an hour! Order a 60 minute lesson and work on a brand new tune or concept.
Custom Recorded Lesson $30
Is there a particular tune or concept you need me to help you learn? I will record a full breakdown of every note, bowing, and phrase and email it to you as an mp3 you can work with over and over until it makes perfect sense. This is especially useful for people who are working in a band and need to learn the fiddle parts to a popular song or for someone who encounters common jam songs and wants to be able to jump in and contribute.
Judging Your Contest Rounds
Could there be a better way to prepare for a fiddle contest than to ask me to pre-judge your tunes and help you improve them before you actually play them in a contest? Just video your tunes and post them as unlisted on YouTube and send me the link. You can also record them on your phone or computer and email me the mp3s. I will listen to your round of tunes just like the judges would and then send back a detailed, tune-by-tune email with my thoughts about your performance and all the things you can do to improve them before the contest.
I have judged the National Fiddle Championships several times as well as over 10 different State Championships. I have also coached dozens of State and National Champions, including 5 time Grand National Champion Tristan Clarridge and National, Alabama, Kentucky, Indiana, Ohio, and Tennessee State Champions Maddie Denton and Doug Fleener.
Fiddle contests often have more than one elimination round and you usually aren't allowed to repeat the tunes from the first round. Here's how FiddleStar contest judging pricing works with that in mind.
$40 includes detailed feedback on one set of tunes (usually 2 or 3 tunes in most contests)
$30 for each additional set of tunes